Items currently in stock. Artifacts 1-3 where displayed in the Oheis-Group Exhibition which showcased Ore.e-Refinaries with an installation "Case study: Collaboration with a Printmaker" (Näin teemme kuparilaatan.) Image 5 is of the five copperplates (each waighting above 200g [in 10x18cm plates]) which mr. Rantanen imported to Finland in a backpack. All items are on SALE!
List of raw material, items and services currently on offer.
"Block functioning as a candle-leg" (2007). Made in Mynämäki.
"Plate suitable for fine print making" (2007). Made in Togo. (Used)
"Ashtray like bowl" (2007). Made in Mynämäki. (Situated on pilaster).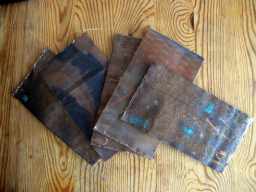 "Batch of Zambian copper imported to Finland by mr. Rantanen in a backpack" (2010) Mined in Zambia, refined in the Republic of South Africa, bought back to Sambia.
"Africa with out Cecil Rhodes" (2010) Presented at Helsinki Taidehalli Exhibition.
"HS D2T 1" (2008) [Low-Res Sample]. An "undiditized" page of the most read online publification of Finland.
"Copperplates like in the times of Dürer". Printmaker! From images to gestures. Hi-res: http://oree.storijapan.net/sales/0_a_plate_for_printmaking_eng.jpg
This project relates to Ore.e refineries which is a non-registared company producing refined ore at any location. Using traditional methods. So far the project has produced one copper-plate usable for fine Graphic Printmaking. The plate was given to a selected (unnamed) Academic Professor of Contemporary Grafic Artist in Finland. The crew would like to thank the residency program of Villa Karo in Grand Popo, Benin for their support to the project. Hope the forge blower we buildet with Boris is in good use!
Last updated: 13.6.2011