Additional Information.
---
---
Current Projects
Sound of Work: Blacksmith edition 1
The sound pack consists over 200 samples recorded at Jesse Sipola's smithy close to Turku, Finland. The samples are aimed for music and sound-design. Sipola followed a click track (80bpm, 4/4) while performing various work phases using the tools he likes best. The samples have been chopped into bar/beat lengths, which makes them suitable for blues-projects out of the box. Enjoy, use, remix and share these sounds of labor. Download on project webpages.
---
Hevoslinja / Trans-Horse (2014-2017)

Table of Content
Trans-Horse project studies contemporary horse culture and advances travel by horse between the cities. A finnhorse The Awaited Son (fi. Toivottu Poika) was hired for the usage of the project to further expand the experience. As a highlight of the project The Riders of Ore.e Refineries (Yli-Vakkuri, Sipola, Karppinen & Kylmälä) connected the cities of Helsinki to Turku via horseback. More on the project webpages (Mostly Finnish).

A public artwork commissioned from Ore.e Ref. by Akaa Gymnasium rector Tuovi Ronkainen. The multipart artwork Seli-seli seppele (Loose translation. Bla-bla Wreath) is installed in the main staircase of the Akaa Gymnasium & Toijala co-educations school building. The artwork is constructed from school memorabilia and outdated teaching equipment. The production of the artwork intertwined with arbitrary school activities and took a year to complete. More on the artwork webpages (Mostly Finnish).

---
"Is property a burden for You or those dear to You?". Ownership Renunciation Services – ORS can be used to renounce ownership rights to property. It is useful when renouncing ownership of chattels, immovable property and intellectual concepts. The service is offered in LITE and PRO versions. Learn more on the service webpages.

"We are searching for the perfect ingredients for our first cosmetic product". If everything goes accordingly the "Anti-Imperial Moustache Wax" will ultimately be made exclusively from materials specific to the Baltic Sea Drainage Basin environment. To achieve this Ore.e Ref. has launched a testing program targeting "Gentlemen with Handlebar Moustaches". Small batches of moustache wax is delivered for selected tester who are expected to provide feedback on the product. The project works as a starting point in an effort to understand the concept of "ecogeographical thinking" better and to experiment with male facial hair aesthetics. More on wax
webpages
.
---
Time to Your Door / Speaking Clock (Aikapalvelut)

Table of Content
"Time to Your Door" services deliver the exact time to the location of Your choosing. Customer service personnel arrives to the site you specify, to announce the time according to your request. "Time to Your Door" is a luxurious way of keeping time. The service is suitable for maintaining your everyday working rhythm and as a featured service of ceremonial occasions. The service is currently available exclusively in Helsinki but also includes "Speaking Clock" features. More on the product webpages.

---
NO-CHAIR-DESIGN Challenge (NCD-C)

Table of Content
28.07.2011 Ore.e Ref. challenged designers of the world to
NOT
design chairs.
We believe that the world already has enough chairs. Designing new ones only takes time away from renovating the ones we already have.
Full details on the project is found on the official campaign
webpages
. This is the first project Ore.e Ref. has utilized video to promote its cause. The project had it's highlights 2012.
---
Africa without Cecil John Rhodes Series

Table of Contentx
Celebrating five years of successful business and original research Ore.e Ref. is glad to offer a collection on imagery and sounds for your enjoyment.
Follow link and download .gif animations and mobile ringtones
.
The artwork is based on
Edward Linley Sambournes
"The Rhodes Colossus: Caricature of
Cecil John Rhodes
" which was published 10 December 1892 in "Punch" (British weekly magazine of humor and satire 1841-1992/2002) after Mr. Rhodes announced plans for a telegraph line and railroad from Cape Town to Cairo.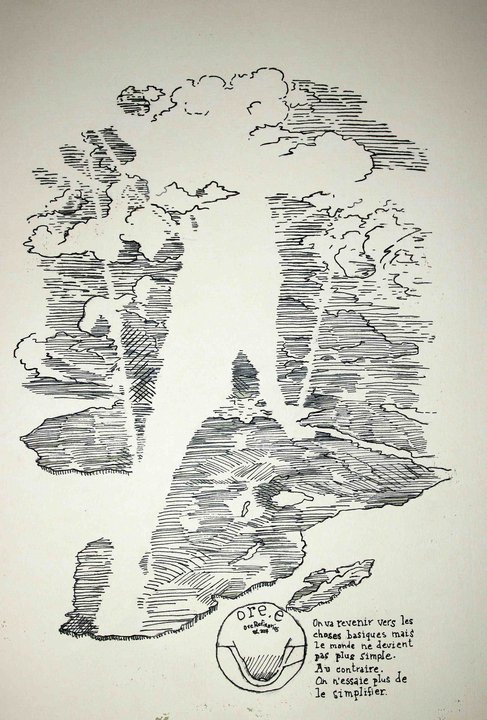 Usage of Image see: O:ESRek1.0 - License
We live in times during which exabytes of digital data is processed daily. Libraries are being digitized and personal photo albums shared online, with no guarantee of the services sustainability –
Will they be here for the next 10 years?
Most devises storing digital data are not designed to last trough times.
Hard-drives get corrupted and computers capable to interpret data on hard-drives require electricity and computer skills to work. Ironically information on how to use computers is commonly stored in
.pfd/.html
manuals inside the hard-drives. Even physical manuals are printed on poor paper, using lousy inks.
A bigger issue is that mechanically produced reproductions don't require labor and are incapable of adding
intrinsic value
to the storage medium. This means that in time, manuals and other texts, images etc. which are not "made beautiful" will be used for something else (possibly for heating the house). As a solution to data preservation issues Ore.e Ref. is working to convert selected digital documents into physical manuscripts. The work is done by hand on acid free papers, using the same inks one can find in pre industrial books. To test these ideas, the front page of the most read online publication of Finland was "
undigitized
" (
un-di
) in 2008. We are currently offering this "
undigitizing
" service for selected companies. Please contact us to learn if we can help you in converting importat digital data into tangible forms. Contact only by phone: 00 358 50 57 29743 (00=+ in local calls).
Usage of Image see: O:ESRek1.0 - License
---
"An effort to notify future generations of the Onkalo NUCLEAR WASTE repository".
During a social project You have the opportunity to send a message addressed to the civilization which will discover the Onkalo - Nuclear Waste repository being build at:
61°14′13″N 21°26′27″E
(Finland). A message selected using a curated selection system will be carved to the bedrock close to the site. Ore.e Ref. is also working on an
Early Warning System
(EWS). EWS's devices are navigational instruments installed some hundreds of kilometers around the repository site. Learn more on
project webpages
.
---
Before the year 2038 Ore.e - Ref. Crew will make a tour from Nordkapp to Cape Town (and back) using low-carbon transport vehicles. During this tour we will salvage material to construct a human powered dynamo (capable to produce electricity for a laptop running a server 24/7) from different kinds of recycled and
Ore.e Ref. style
refined materials.
During the tour we will have the opportunity to fetch materials our clients have ordered from Europe, Asia and Africa. So if
YOU
are looking for specific materials from a specific region of the world the
Legacy Tour > 2038
is a good opportunity get them – with out causing carbon pollution. Our route in Africa will take us in the footsteps of the telegram-line Cecil John Rhodes build to connect Cairo and Cape-Town early 1900. We will map its route and attempt to salvage pieces of this infrastructure.
The Tour will take place before 2038 (Hence the name "
> 2038
"). We are looking for investors wanting to contribute to this tour and clients in need of material from specific regions of the world on route from Nordkapp (Norway) to Cape Town (The Republic of South-Africa). Contact only by phone: 00 358 50 57 29743 (00=+ in local [Finland] calls).
---
---
The Mission of Ore.e - Refineries.

Table of Content
Ore.e Refineries is a public utility company advocating sustainable design. It was founded in 2007 as an art project, focused on producing a copperplate suitable for printing fine arts. Currently Ore.e Ref. is offering its services to craftspeople and organization who wish to have a more personal relationship with the materials they use. We encourage people who use metals or ready-made material in their work to take note of the technology and ethical backgrounds how these materials are collected and refined. Ore.e Ref. is a manifesto for all handicrafts and the intrinsic value of handmade things.
Detailed information on the backgrounds of the project can be found in Yli-Vakkuri's
blog
and a pictorials from exhibition displaying our work in the context of art
Voipaala (2009)
,
Taidehalli (2010)
,
AaltoEE (2011)
,
Jyväskylä-Madrid (2012)
,
Akaa (2013)
,
SIC (2014)
and
Mänttä (2015).
We are working hard to build Ore.e Ref. into a sustainable crafts organization. As such we have aimed our services and goods for designers, artist and artisans with very specific crafts and metal related needs – possibly producing unique products. we can also scale our services to meet the needs of light industry. To reach our aims we are working in an ecologically and socially in an sustainable manner. We sacrifice short term profit for sustainability.
Our mission is to distribute wealth to craftspeople in all corners of the world
.
We are researching how to design a robust and scalable "system of goods production" which will be able to function in the true post-industrial era. A key tag for this project is the archaeology of the future. This term defines our research question: What will be left of our technologically driven culture in the true post-industrial era?
As Ore.e Ref. is a non-registered public utility company we currently don't have the possibility to share profits made trough sales in a transparent and public way. However, we will to share
20% of profits
made with any Ore.e Ref. related object/service sales trough
The Kiva micro-finance
system
(
www.kiva.org
); As a private artist and a designer. As sales catch on we will post news on these investments here.
In order to share profits we have also developed a licensing system "
O:ESRek1.0 license"
[
esrek
] which forces (or as we like to think
invites
) organizations to use the Kiva system, if they want to use any media owned by Ore.e Ref. For more details on how the distribution of wealth is made possible trough copyright policies see the FOR PROFIT segment of the
esrek
license. A simple introduction to
esrek
is that for any media owned by Ore.e Ref. used in any commercial publication (print or digital) a loan must be given to West-Africa using Kiva.
O:ESRek1.0 license
by
Ore.e - Refineries
is licensed under a
Creative Commons Noncommercial 3.0 License
. Derivative licenses of it can be crafted to suit your needs.
As a potential client or investor you might like to see a
timeline of Ore.e Ref.
which presents its development so far. We are a stable company. Fueled with passion for arts and crafts and the ambition to develop sustainable systems of production.
"Craftspeople eat agile for breakfast ... scrum, scrum, scrum.
"
Funding for projects is applied both on the private and public sector. Sipola is running his own craft company
Oshipala
-
Air Hammer Studio
(/corporate name "Oshipala"), the services of which are presented on
company webpage
. Yli-Vakkuri works as a freelancer (sole proprietor n.
2394036-1 FI)
for multiple clients. Together they have over 30 years of experience as entrepreneurs in the fields of fine-arts and crafts.
Rates and prices for services and products:
Everything is negotiable and information is free. Do not hesitate to ask for an offer. As an example the starting prices for
copperplates suitable for printmaking
is 80€ (+23% vat) (
including worldwide shipping
) but prices are dependent on the plates size and the raw materials needed for its production. Prices for the services we offer (
DT2
and manufacturing of items, raw materials etc.) are not fixed as they depend on how demanding your project is. Please bare in mind that we share 20% of
profits
made with any Ore.e Ref. related object/service sales trough The Kiva micro-finance system.
There are other possibilities to solve issues with money:
We also accept ARTMONEY as payment. Artmoney is an international art project presenting a global, alternative currency. 20% of payment can be made using this currency. Learn more on their on their
webpages
.
We also accept BITCOINS as payment. Bitcoin is the gold standard of digital currency. Full payment can be made using this currency. Learn more on their on their
webpages
.
Our Bitcoin Address: (Temporarily closed)

Also
Uuva - Currency of New Work
is accepted but it is only useful for clients situated in Finland. Albeit currently unregistered in the system we also support the efforts of the
CES - Community Exchange System
branch
Stadin aikapankki
in Helsinki, Finland.
---
---
Am I allowed too use material linked to this project in my publication?
Yes. Feel free to use material in the

The PRESS kit (2010-2012)
and on the Ore.e Ref. web-site (if not otherwise licensed) if you follow the O:ESRek1.0 - License shown below, with the following details:
OWNER
= Ore.e - Refineries
OWNER(s) web-site
= http://www.oree.storijapan.net/
OWNER(s) pre-selected
entrepreneur =
You may select an entrepreneur of your liking.
NOTIFY =
with an SMS to 00 358 50 57 29743 (00=+ in local [Finland] calls)
Any other usage must be checked with Ore.e Refineries - Management and Sales -> See
Staff
for further contact details.
(fileindex)_nameofthework_copyrightowner(s)_yearofproduction.format
size
Download: Right Click... Save As...

0_OREE_REF_PRESS2010.zip
1.1MB
0_OREE_REF_NCD-C_CAMPAIGN 2011-12.zip
4.4 MB
---
---
Licenses:

Direct link:
http://www.oree.storijapan.net/esrek


---
---